To create a sustainable high-performance workforce, employees and managers alike need to understand what really drives individual performance. Employees that can prioritise what is important to them – whether that's workplace recognition, time with family or any other motivator – are enabled to perform better, pursue their goals and work towards driving company success.
This is the premise of the Blend tool: a list of 28+ drivers and motivators designed by OpenBlend to help employees pinpoint what's important to them, providing the basis for productive, measurable one-to-one conversation between managers and their teams. To find out more about how it works, and the benefits it brings, download our Guide to Employee Motivation.
While many companies are, recently, moving towards a coaching-led management structure to help employees achieve their objectives – and look after their wellbeing – at work, senior management are often overlooked.
Yet performance conversations are just as important at a senior level as it is for junior or mid-level employees. Ensuring that company leaders – from heads of departments to C-suite positions – are given the same opportunities to identify and prioritise their drivers is essential to creating and influencing a high-performing, people-centric culture from the top down.
In the latest addition to our 'My motivators' series, Nick Sturge, OpenBlend's Chief Technology Officer, shares his top performance drivers, and how they impact his performance in his leadership role.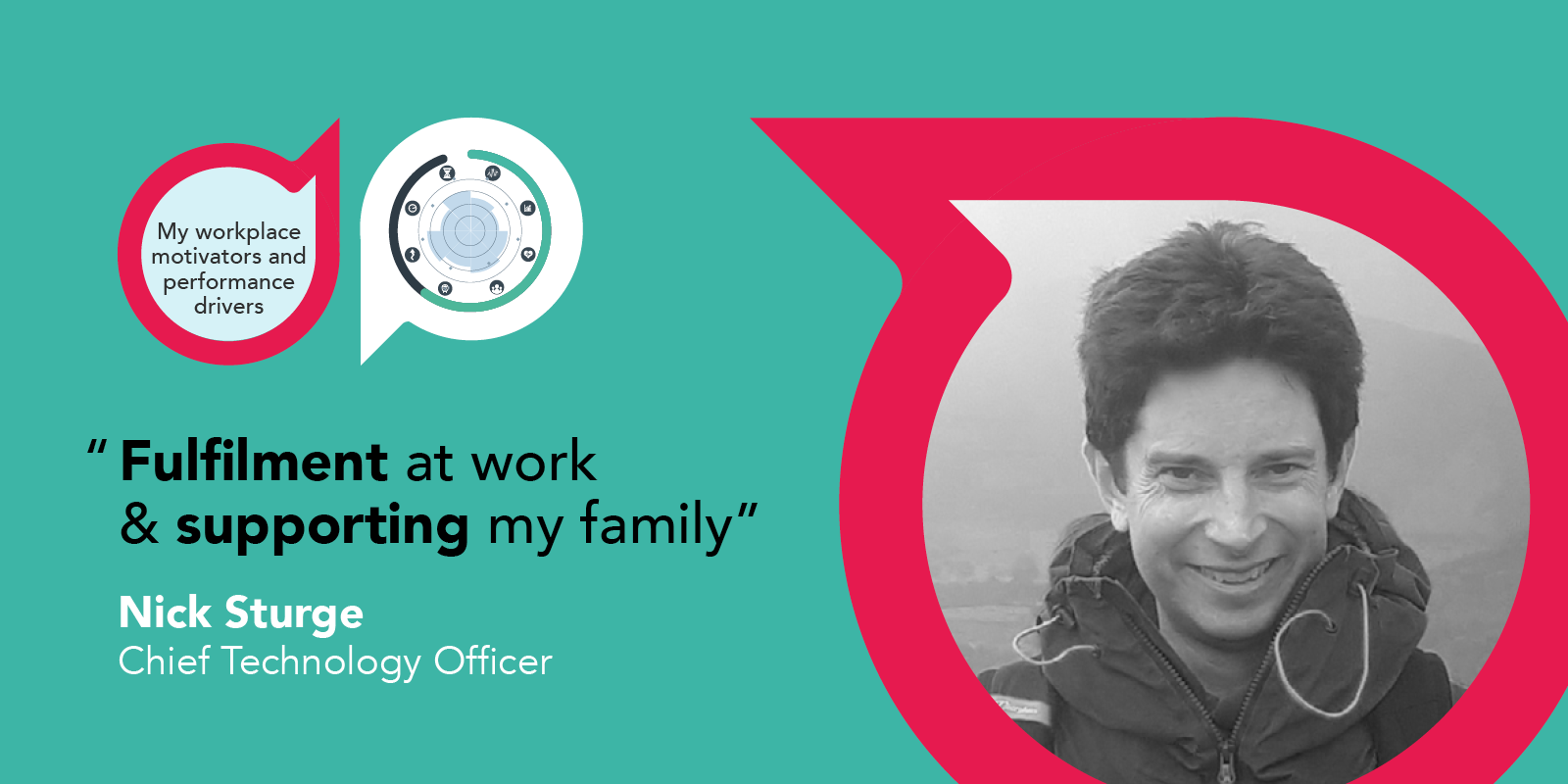 What are your top motivators at work? 
My top motivators (including my personalised definitions) are:
Fulfilment at work.

My definition of this has two parts:

My career is moving forwards in a direction that I like.

My company is successful, it behaves well, I am in tune with the company culture and environment, and I believe in the value that the company brings to the world.

Supporting my family

I feel that I am looking after my family an appropriate amount – usually, this means "as much as I can".
What impact does fulfilment at work have on your performance?
Fulfilment at work is all about the big picture of my work. If the big picture is looking good, then I find I can get over many day-to-day or week-to-week bumps. Conversely, if the big picture is not that great, then that casts a grey cloud over all my work. My emotional state at work does have a significant impact on my emotional state outside work.
Why is supporting your family an important driver for you?
I have a deep-rooted need to feel that I am doing the right thing, behaving well and treating all the people around me well, particularly the people that depend on me: my family is the most significant example of that. They depend on me, and it makes me feel good that they can depend on me and that I can meet/fulfil their needs and expectations. If I get to a place where I am letting them down a lot, it will cast a shadow over everything else happening in my life.
How do you prioritise your performance drivers in your senior role?
I have a very open, honest and trusting relationship with my manager. I threw myself fully into that from the early days of working at OpenBlend and I haven't regretted it. The OpenBlend tool helps, but I would have wanted to have this relationship with my manager even if we didn't use OpenBlend. I'm lucky that my manager responds positively to this desire to have a close, open and honest relationship. In fact, I wish some of my previous managers had had OpenBlend: it would have helped me in previous roles, as it would have enabled me to share the core drivers that motivate me more clearly. When we discuss my drivers, there isn't usually a single simple answer to "fix" the gaps that are there, but we always find something that can move the situation forward. Having regular sessions also helps a lot.
Are your top motivators the same as they were a year ago? What's changed?
I've been at OpenBlend for nearly 18 months now, and these top drivers haven't changed in that time, although the current scores have! I don't imagine I will change these two drivers anytime soon, either, as they are a core part of who I am.
Unlock better performance by identifying and acting on your employee's key drivers – even at a leadership level. Book a demo today to discover how the OpenBlend performance management platform makes it possible for every manager to become a coach, recognising employees' drivers and motivators to unlock their full potential.