Performance enablement isn't one-size-fits-all: it means different things to different people as we all need different things in order to perform.
At OpenBlend, we provide a people-centric approach to performance that enables every individual to deliver their full potential. Our platform helps managers and employees to have the right conversations, at the right time, to identify each employee's unique mix of challenges, obstacles, and motivators.
Each employee selects their own individual performance drivers and importantly defines what that motivator means to them, as no two people have the same definition of what said driver or motivator might look like. We call it the Blend – and it holds the key to unlocking better performance.
To find out more about Blend and how it can be used to understand employee motivation and enable performance,
In this series, we're asking the OpenBlend team to share their top Blend motivator, why it's important to them, and what difference it makes to their performance. Next up, Ilia Onischenko, Head of QA on how 'making a difference at work' is uniquely defined by him as a key motivator of performance.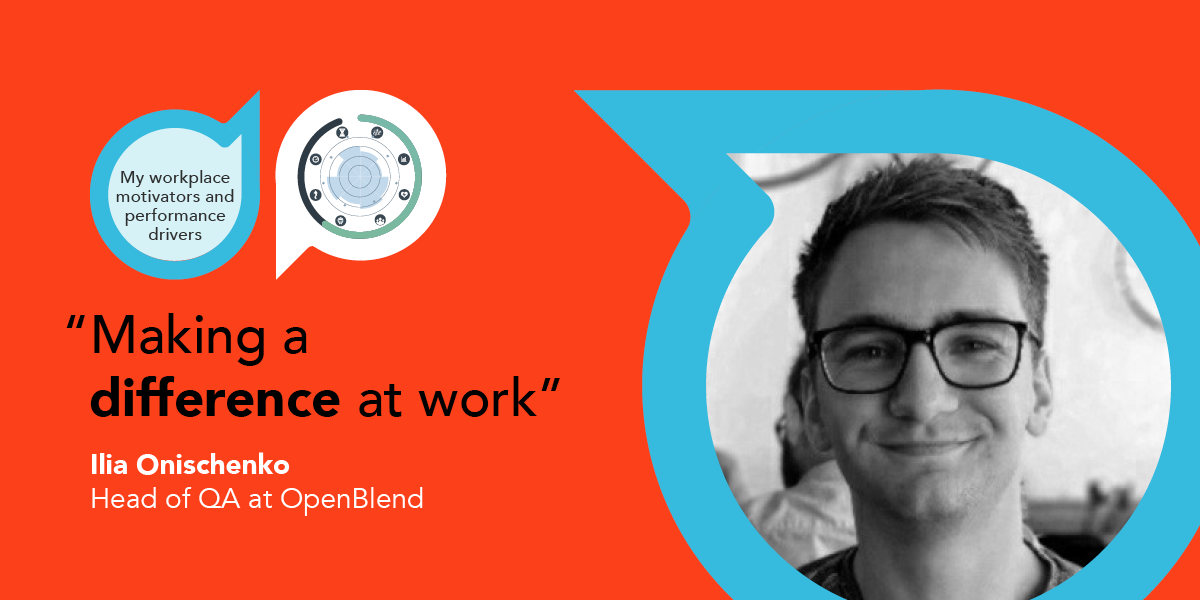 What is your top motivator at work?
My top motivator at work is "Making a difference at work".

Why is this important to you?
It's important to me because I like to feel like I'm having a measurable impact on the process and not just sitting around doing something small and repetitive over and over again. I want to feel like my time is being put to good use.

What impact does "Making a difference at work" have on performance?
For me I would say it has an average impact in the short term. It is not debilitating if I cannot immediately see the fruits of my labour, but I have little time for buzzwords. In the longer term I want to evaluate my input on its objective influence on the business, so it is has a high impact on performance. I can do busywork for a short while, but I'd rather not, because I can lose focus and motivation quickly – what's the point of this task if I'm not making a difference?

How does your Manager support you to achieve/prioritise "Making a difference" at work?
My manager supports me to explore new areas of the business and take on new responsibilities, especially in their absence. This expands my understanding of how my objectives and output impact the wider business. Fortunately this is particular driver is not in conflict with any of my other Blend drivers, so it is easy to retain focus on it.


How do you manage the gap between your current and target scores?
My manager and I have one-to-ones every 3 weeks, and we almost always discuss this particular motivator. Most of these conversations are instigated by me if I feel like I am not being sufficiently challenged or what I am doing is risks being lost in the ether.

Is your top motivator the same as it was a year ago? What's changed?
Actually this motivator has been present in all my roles over the last few years, and is one of the reasons that I enjoy working at a small company where there are many responsibilities, and the impact of me ' making a difference at work' is immediately visible.
Understanding your employees' Blend motivators is key to enabling better performance.
to find out how the OpenBlend performance management platform makes it possible.