Performance management isn't just about setting objectives: it's about recognising what every employee needs to achieve them.
At OpenBlend, we provide a people-centric approach to performance one-to-ones that enable every individual to deliver their full potential. Our platform helps managers and employees to have the right conversations, at the right time, to identify each employee's unique mix of challenges, obstacles and motivators.
We call it the Blend – and it holds the key to unlocking better performance. To find out more about Blend and how it can be used to understand employee motivation and enable performance, download our Guide to Employee Motivation.
In this series, we're asking the OpenBlend team to share their top motivator, why it's important to them, and what difference it makes to their performance. First up: Hannah Dowling, Customer Success Manager, on why progression at work drives better performance.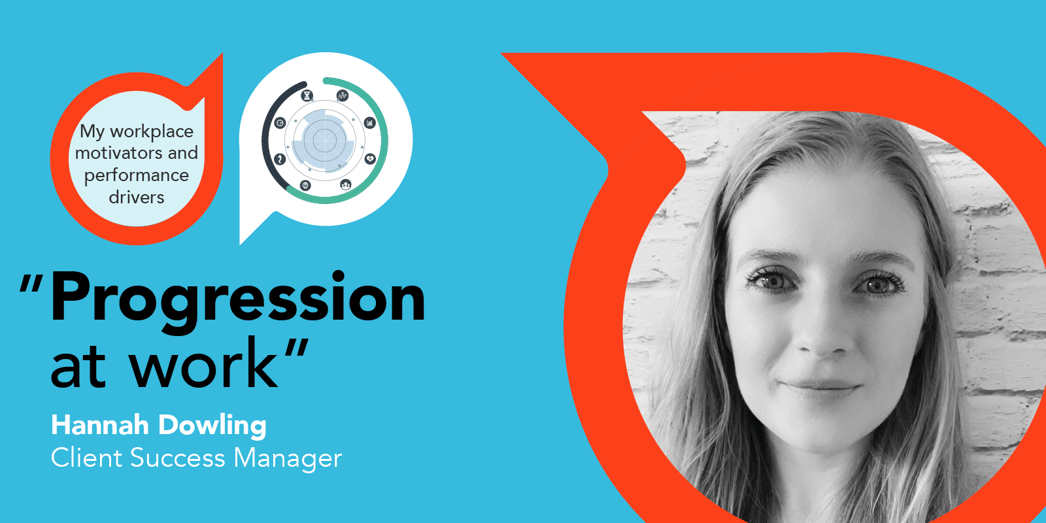 What is your top motivator at work?
Progression at work.
Why is this important to you?
Being offered the opportunity to grow and progress within a company, as my skills and knowledge continue to grow, is important to me as it supports my ambition and need for a clear career path. It also gives me a great sense of purpose and belonging.
What impact does progression have on performance?
I like to challenge myself and having a manager who is supportive and provides guidance to coach me through this, helps drive my motivation and performance levels.
Being given an opportunity to learn new skills and enabled to focus on my professional development in a supportive environment is essential to me. It helps me to feel engaged, explore new tasks and take satisfaction in trying something new, driving me to work harder and progress to the next level in my career as a result.
How does work support you to achieve/prioritise progression at work?
The main support I receive for this is from my manager in my one-to-ones every fortnight. They support me to develop my skillset and enable me to take on developmental opportunities, to help me reach my full potential.
How do you manage the gap between your current and target scores?
I manage the gap between my current and target scores by regularly checking in with my manager to discuss both my current responsibilities and my wider career objectives. By receiving continuous feedback on my performance, I can ensure I am on track, identify where I need to improve, and stay focussed on achieving my goals.
Is your top motivator the same as it was a year ago? What's changed?
COVID has changed many people's perspectives with the shift in work/home life balance and I have found that what motivates me has changed during this time too. Being with a company who values, supports and wants me to grow with them, especially in a remote environment, has become my top motivator; whereas prior to COVID, this was more leaned towards having fun.
Understanding your employees' Blend drivers and motivators is key to enabling better performance. Book a personal demo today to find out how the OpenBlend performance management platform makes it possible: providing a framework that turns every manager into a coach to help their teams reach their full potential.