Employee engagement surveys are useful. As a tool to measure the level of engagement and satisfaction of their employees, they're a great way to see a snapshot of your workforce's engagement in a specific time and place: a broad-sweeping view of how your organisation is engaging with its employees. 
What an employee engagement survey can't do is drive engagement, or help you to understand what's affecting it at an individual level day in, day out. Here, we're going to explain the strengths and benefits of employee engagement surveys and share some tips on how to take the next steps to influence engagement across your workforce.
The benefits of employee engagement surveys
Typically, employee engagement surveys ask questions about job satisfaction, job performance, rewards and recognition, work-life balance, and other topics that are related to employee engagement. The data collected from these surveys can be used to identify broad areas of improvement and help organisations develop strategies to increase employee engagement at an over-arching level: for instance, tackling workplace culture problems, or addressing widespread concerns.
These surveys can be used to gain insight into overall employee satisfaction, uncover potential issues, and identify areas where improvement is needed across the board: for instance, they might show if working hours are creeping up across the board due to unrealistic workloads, or if employee morale as a whole is dipping. 
Additionally, they can help organisations understand the impact of their engagement initiatives, track progress, and measure success. By using employee engagement surveys, organisations can gain insight into their workforce and start to make necessary changes to ensure the workforce, as a whole, feels engaged and valued. It's important to remember that the purpose of these surveys is to collect data, not to track individual, real-time drivers, which we will come to later.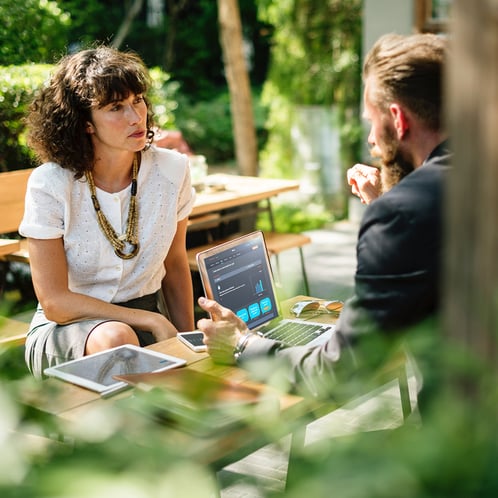 An employee engagement survey checklist can help ensure that you cover all of the important topics that relate to employee engagement. By using a checklist to create an employee engagement survey, organisations can ensure that their survey covers all the important topics and provides the data needed to identify areas of improvement in as much detail as possible.   
What is an employee engagement survey checklist?
An employee engagement survey checklist is a list of questions that cover everything you need the survey to include.
From questions about job satisfaction and job performance, rewards and recognition, work-life balance, diversity, equity, and inclusion to questions about the organisation's culture and values. It's worth remembering that the survey remains anonymous, so personal questions wouldn't be relevant - and that the goal of an engagement survey is to gather insights, analytics and a more holistic view.
However, it would make sense to ensure that include questions about the impact of the organisation's engagement initiatives and the progress that your employees feel is being made to make a marked improvement towards their feelings of engagement at work.
To summarise, the checklist ensures that any employee engagement survey asks the right questions, so that as a business you get the data you need to identify areas that need improvement.
Example of employee engagement survey questions
Examples of employee engagement survey questions may include: 
How satisfied are you with your job? 

How would you rate the rewards and recognition you receive? 

How supported do you feel when it comes to your professional development? 

How satisfied are you with the work-life balance at your organisation? 
How diverse is your organisation? 

Do you feel your values are respected in the workplace? 

How satisfied are you with the communication between you and your manager?

How satisfied are you with the feedback you receive from your managers? 

What changes would you like to see to increase your engagement?
How can you get more accurate employee engagement insights?
This list is a great starting point for organisations embarking on an employee engagement strategy, but they are far from the full journey. Once your employees have responded and the data is collected, you're seeing a still image of the past – not the current state of engagement in your organisation. Also, if your survey is anonymous, which most are, it's impossible to understand exactly how each person feels as an individual. What if 90% of your team feel satisfied with their job, but 10% don't – and this 10% includes some of your top performers?
There is a way that you can get answers to all of these questions from individuals, in real-time – and take steps to unlock better engagement across the board. The answer is in well-structured, regular one-to-one conversations, between employees and their managers. By providing a platform where employees can discuss these issues without fear of recrimination or judgment, you can turn broad insights into employee engagement into personalised actions for improvement: measuring wellbeing, identifying engagement KPIs with every employee, setting objectives and driving engagement through action. 
Great conversations lead to great engagement and improved performance – and while engagement surveys are a great way to kickstart these conversations in your organisation, they're only the tip of the iceberg when it comes to driving true engagement. 
To find out more download our employee engagement guide:
The Top 5 Drivers of Employee Engagement.
These drivers you wouldn't see published in your survey results and they demonstrate why finding out what drives and motivates your people is more important than surveys when it comes to impacting engagement across your workforce.